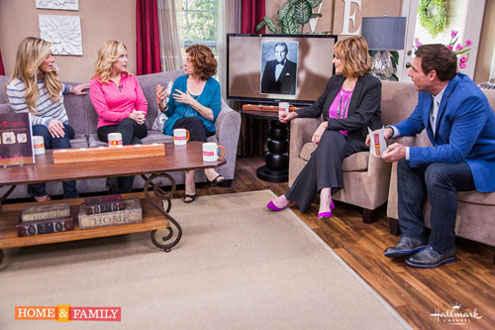 Barbara was co-winner of the Hewing Medical Award for clinical research (UCSD), and she graduated Phi Beta Kappa, Magna Cum Laude from Case Western Reserve in Social Psychology.
She has appeared as a guest on 75 national and local TV/Radio Shows – Hallmark's "Home and Family", TYRA, NBC News, "The Young and the Restless" (pilot), The Learning Channel, InSide San Diego, KUSI Morning News, and Fox 5. Her books, Face Reading: What Does Your Face Say? and Face Reading: How to Know Anyone at a Glance sell internationally (PDF, iPAD, paperback). On youtube.com her channel now has 1.5 million viewers, and her accuracy comes from reading the faces of 10,000 people.
Barbara has presented over 500 seminars including those for the US Navy, Jenny Craig, Fortune 500, Wells Fargo, UCSD Diversity Conference, Learning Annex, Hospice, YMCA, Center for Integrative Medicine, North Coast Nephrology Conference, and the City of San Diego. She has read the faces of Oprah's production staff and TV talk Show's "Cristina" and her family.
Her Magazine articles include many for First for Women Magazine, Women's World, The Entertainer, Encinitas Magazine, The Blade Tribune, Pacific San Diego Magazine, SD Union Tribune, North County Times, and RSF Times.
Barbara's intuitive, spiritual approach to Face Reading combines her own forty year personal journey of psychological transformation and meditation with the scientific accuracy she developed in clinical medicine. Hers is the only Face Reading system to honor all ethnic groups, ages, and genders. She currently lives in a small town called Encinitas near the beautiful beaches of San Diego.
---
What People Say
"I loved having you on the talk shows and definitely applaud and thank you for taking a similar stand to honor ethnic diversity in all ways in your work."
—Tyra Banks, National TV's "Top Model"
"Barbara's ability to read people's faces is utterly incredible. It is simply uncanny. I was continually amazed."
—V. Gloor, Supervising Producer, FOX TV
"Each time Barbara appeared on InSide San Diego, people from all over the station would line up for Face Readings. Time and again, her accuracy would blow them away."
—A. Moyer, Supervising Producer, KGTV
"Face Reading is the SECRET WEAPON You Must Have! I wish so much I had learned this earlier in my career! If you work with people — if your career depends on your ability to read and influence others — if you're looking for a statistically proven way to instantly read friends, family, colleagues, and clients — get (Barbara's book) now! I never realized how much our faces tell others until I spent time learning about the characteristics our unique attributes display…. I highly recommend investing the time to have Barbara read your face personally. You'll be shocked and amazed at the detail and accuracy!"
—P. Bowen, Costa Mesa, California
"When our company was assaulted by the NLRB, I asked Barbara to read the face of their head honcho. Based on her read, we devised a plan that stopped them in their tracks, literally saving our $16 million dollar company. Her read was right on! We will always appreciate her, and she is the core of one of my best stories."
—P. Friedman, Former Owner, The Green House Fresh Herbs
"Barbara's system is the single most valuable tool I know of for effective communication. I interview thousands of people, and I use these skills all the time."
—L. Buxton, Morning News Anchor, KUSI TV
"I am so impressed by the accuracy of Barbara's work…Simply amazing. I can hardly believe I didn't know about this before. I have been seeing people so differently since studying the book and am so excited to have additional insight into my own life."
—J. Borba Von Stauffenberg, Owner OlivePR
"In my individual session with Barbara, she directed me to my life's work, which I would not have thought of my own. I couldn't be happier with the peace and fulfillment it has brought me. I am doing what I love!"
—R. Winrow, Owner of European Skin Centre.
"I have been attending Barbara's Face Reading classes for the last 15 years. Barbara consistently demonstrates a depth of understanding others and doing so with great accuracy and finesse. She is warm, compassionate, and nurturing to her class . . . . It has been and continues to be fun and stimulating in learning and applying the information contained inside these books to real life situations in the here and now. The books . . . give greater understanding and appreciation of others in a non-verbal ways without stepping over their personal boundaries."
—Dr. M. Malay, Parole Officer, San Diego, California
"We will be using your skills as another valuable tool in our recruiting of sales reps and personally in my calls on senior level executives. In that one call your analysis was so insightful and helped us approach him in the correct way."
—G. Robinson, CEO of IMS (Integrated Medical Systems), Birmingham, Alabama
"It was amazing to watch you in action. You certainly hit the nail on the head with each of our members, uncanny success with people you have never known before. Your knowledge can be a valuable contributor to decision making at any level, and I know we are inspired to use your services for that."
—Dr. A. Windsor, Inside Edge, Foundation for Education, Irvine, California
"I was in a very dark place trying to sort out what to do with my life and career, and Barbara was a Light on my Path. Her intuitive skill enabled me to find myself my best career. I feel God sent her to me as an answer to my prayers. Now abundance is pouring in. Barbara was my ANGEL."
—M. Davis (Amazon.com Book Review)
"In my medical practice, Barbara's work has given me a more profound insight into people's symptoms, conditions…how these may be related and how to help people live fuller lives on many levels. Meeting Barbara has been a blessing in my life both personally and professionally. I have enjoyed her workshops as well as her consultations. You inevitably come away with lifelong, invaluable tools."
— E. Llorente, MD, Fountain Valley, California
"I've had my face read by Barbara, and it was eerie how much she could pick up about me, my personality, and my life after just meeting me and studying my features briefly. The books allow you to bring home the positive experience and learn more. I totally recommend them!"
— I. Heather, Chemist, Anaheim, California
"Barbara has become perhaps the most effective Face Reader I have encountered in my travels. She is a Face Reader par excellence, and a person of great compassion, sensitivity, and commitment."
– Dr. N. Singh, International Expert on Face Reading
"The first time I went to Barbara for a Face Reading, it was like I was meeting an old friend. She started me on my journey to self-awareness."
– J. Insua, Supervising Producer, TV's Cristina Show